Motocross taster course Switzerland
At MX-Academy Switzerland you can do a Motocross taster course
Motocross taster course for everybody
At MX-Academy you can participate in a Motocross taster course – even as a total beginner. In different groups, the coaches look after every rider individually. The Motocross beginners first learn the handling of the throttle grip, the basic position on the dirt bike and after that the gear-shifting with the clutch. When the rookies handle these basic techniques, they can ride on the track on their own. Normally the motorcycle novices can ride on the MX track as early as on their first day.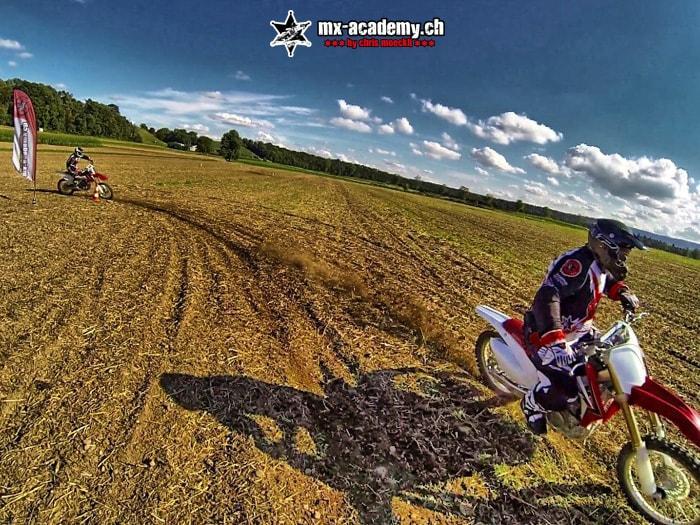 Too old or too young for our Motocross taster course? Hardly likely! The youngest ones in a Motocross taster course are about 4 years of age, the oldest ones 74! More about children in our taster courses can be learned about under Kids-Motocross.
Naturally at MX-Academy you can rent all equipment for a Motocross taster course, a complete safety gear, the use of the dirt bikes and the coaching.
Going faster on a dirt bike is only possible if you improve your driving technique, balance and feeling for every control element. Never through force or more risk. The faster a Motocross bike goes, the more precise you must act and the smaller the timeframe gets in which you must balance your bike. Because of that and because at MX-Academy we only use bikes designed for competitions, you must understand and be able to apply the riding techniques of Motocross. That's why for everyone who is at MX-Academy for the first time, coaching is obligatory.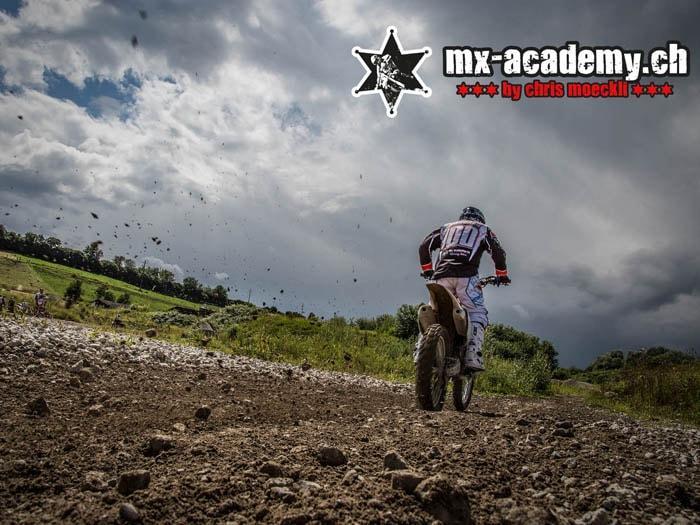 If you want to learn advanced riding techniques, you can enter the MX-Academy's Motocross team. There you learn how to drift like riding flat-track and dirt-track, mastering climbs like in Enduro training, riding in sand like the desert of Dubai UAE and all jumping techniques of Motocross sport. The better you can handle your bike the more possibilities there are and the more fun it gets!
For smaller women, we have smaller gear and bikes. More information under Motocross women.
If a whole group or a firm wants to take part in a Motocross taster course, you can find more under firm event Switzerland and team event.
Motocross taster course Switzerland – MX-Academy
You want to participate in a Motocross taster course? Under event schedule Switzerland you can see every event and can also sign up for one right away. If you have questions about our taster courses, you can write us an E-Mail at This email address is being protected from spambots. You need JavaScript enabled to view it. or call us. We look forward to hearing from you!
Interested in a one-hour Motocross taster course?
This option is only available for events during the week. For 165.- Fr/ per Person (everything included for 1 hour), children, women and men can get a taste of Motocross for one hour. When signing up, you can simply put the note "taster" in the comment section and you signed up for your one hour taster course. If you have any questions, just call us!

General information about Motocross as a sport and riding techniques you can find under Motocross sport.

Information about Motocross in Switzerland can be found under Motocross Switzerland.

You want to buy a dirt bike, a Motocross helmet, Motocross goggles or your own complete MX gear? You can do so in our Motocross Shop at top prices.

Buying a taster course as a gift? Under birthday present you can order coupons.

Here you can see a video of the Motocross taster course:

" style="display: block; margin-left: auto; margin-right: auto;" width="100%">