Motocross races in Switzerland
Here, you can see a list of the most important Motocross races in Switzerland
In Switzerland, there are two associations that organize Motocross races and many non-licensed races
There are different classes for Motocross races in Switzerland: children and teenager, which are divided in three age groups. For adults, there are junior, national and international classes in 2 different cubic capacity groups: 250ccm and 450ccm.
The children and teenager classes start mostly start at own, smaller Motocross races or as a prelude to a main event of one of the listed races. Sometimes, a children class is integrated in the main event as an accompanying program.
Motocross race Wohlen
The Motocross race in Wohlen (AG) is one of the biggest and most important Motocross races in Switzerland. Many World- and European championship classes started at the motocross race in Wohlen. The classes are mainly provided by S-A-M (Schweizerischer Automobil und Motorradfahrerverband), in some years, however, also from FMS (Federation Motocycliste Suisse). More information under Motocross Wohlen.
Motocross race Muri
The second, important Motocross race in Argovia is the Motocross race in Muri. The FMS association provides all classes at this event. More information under Motocross Muri.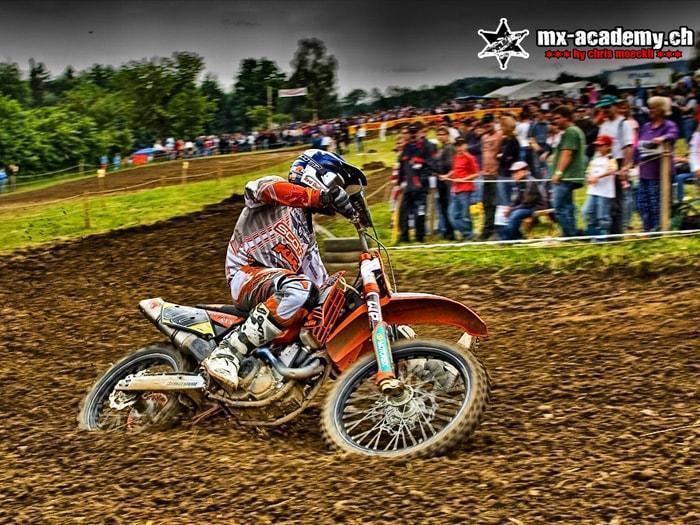 Motocross race Frauenfeld
The biggest and most important Motocross race in Eastern Switzerland is the race in Frauenfeld. FMS provides all classes. Traditionally, the race takes place on Easter Monday. 2016 and 2017 the world championship in MXGP Switzerland took place there. It will also take place there in 2018. More information can be gathered under Motocross Frauenfeld.
Motocross race Amriswil:
After the race in Frauenfeld, the Motocross race in Amriswil is the second biggest race in Eastern-Switzerland. S-A-M provides all classes in this race. More information under Motocross Amriswil.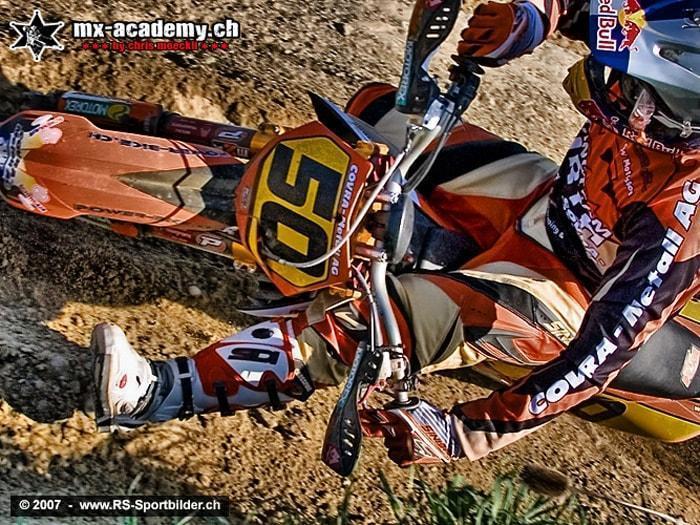 Motocross race Gutenswil:
The biggest Motocross race in the canton of Zurich takes place in Gutenswil with S-A-M.
Motocross race Andelfingen/Kleinandelfingen
SAM has been hosting, together with AMCA a race with international classes in the Zürcher Weinland.
Motocross race Oberriet:
The Motocross race in Oberriet is also a SAM race. Along with the SAM classes, there are also club classes most of the time. Sometimes, the Motocross race in Oberriet even is a pure club race with no or just single SAM classes. 
Motocross race Schlatt:
The SAM Motocross race in Schlatt (ZH) is a young, but very good Motocross event. Not to confuse with the Motocross track Schlatt (TG).
Motocross race Payerne:
One of the biggest and most traditional Motocross race in Romandy. Along with several world championships, there are club races and FMS races every year.
Motocross race Broc:
Along with Payerne, the Motocross race in Broc is the most important race in Romany.
Motocross race Bullet:
In the past one of the most important races in Switerland, spectacularly right in the village and a steep and long ascent over an old ski jumping hill. Today, the race takes place outside of Bullet on a fix site, where there's also the possibility to train.
Motocross race Bubikon
One of the biggest licence-free club-races in German-speaking Switzerland which, since 1996, mostly takes place during spring.
Motocross race Schleitheim
The most famous Motocross race in the canton of Schaffhausen with classes of the SAM. Sometimes, the race of Schleitheim takes place in the neighboring village of Beggingen.
Motocross race Möggers (AUT)
SAM classes can take part in the Motocross race in Möggers (Austria).
Motocross race Emmingen (DE)
At the Motocross event in Emmingen, there are the most races where everyone can take part in.
Motocross race Seerücken
At the chat Motocross in Seerücken, only hobby classes start.
Motocross race Obernheim (DE):
SAM classes start at the Motocross in Obernheim.
Motocross races
All previously listed Motocross tracks in Switzerland, that host races, only have authorization for Motocross events and you cannot train there outside of these events. Information about training tracks can be found under Motocross tracks.
Info by MX-Academy
In MX-Academy's Motoshop, you can find many interesting offers in the Motocross shop, like buy Motocross bike or Motocross gear. If you have questions, you can always contact us – we look forward to hearing from you!
Motocross races Switzerland | MX-Academy
Motocross Races, Motocross Races Switzerland, Motocross Races German-Switzerland, Motocross Races Eastern Switzerland, Motocross Races Romandy