Birthday present Switzerland
The gift of a coupon for an unforgettable day at MX-Academy Switzerland!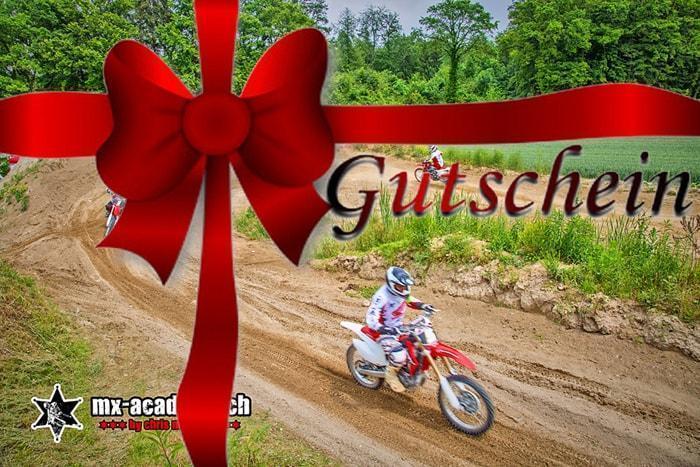 A birthday present that will be remembered for a long time!
Do you want to surprise your family, your friends, your partner or your child with an exceptional birthday present?
Do you want to surprise someone with a very special and exclusive gift? One which the person is going to talk about for a long time and which he/she will never forget? Then the birthday present Switzerland is the right thing for you. We offer you different coupons.It is perfect for somebody who likes riding BMX, Downhill, Enduro or motorcycle. That is, of course, also the case for people who have never ridden a two-wheeler before.
The big birthday present for 435 Fr.
Includes everything to ride Motocross for 4 unforgettable hours (bike rent, safety equipment, coaching, board included). This experience takes place on a Saturday.
The birthday present for 385 Fr.
3.5 hours Motocross fun during the week at MX-Academy (bike rent, safety equipment, coaching, board included).
For these two birthday presents, you don't need any previous knowledge. Our instructors teach children, women and men the basic techniques of Motocross riding, so that everyone can enjoy their day ever more. These coupons are also perfect for all BMX, Downhill, Enduro or motorcycle riders.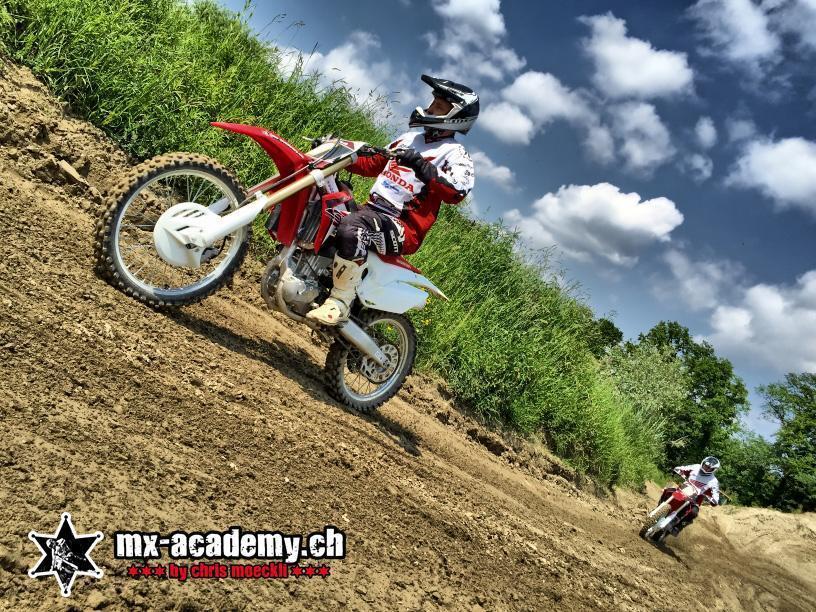 Birthday present Switzerland riding Motocross and rent all material
The special birthday present Switzerland for 180 Fr.
Do you know someone who already owns a Motocross or an Enduro bike? Then surprise him/her with a very special birthday present. He can drive on our track for 4 hours with his own bike and gets advice how to improve his/her riding technique.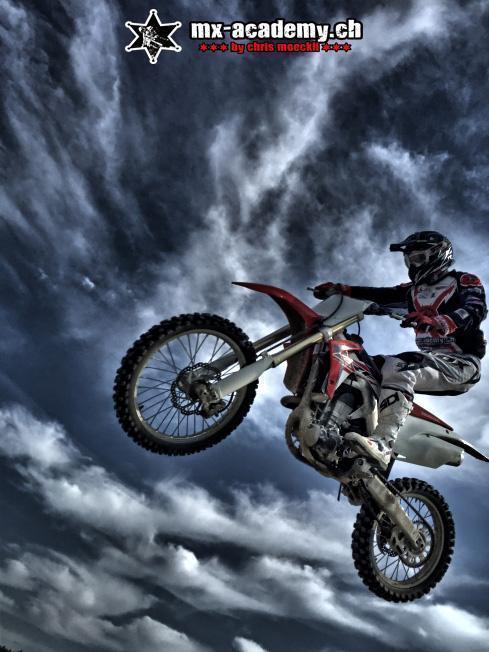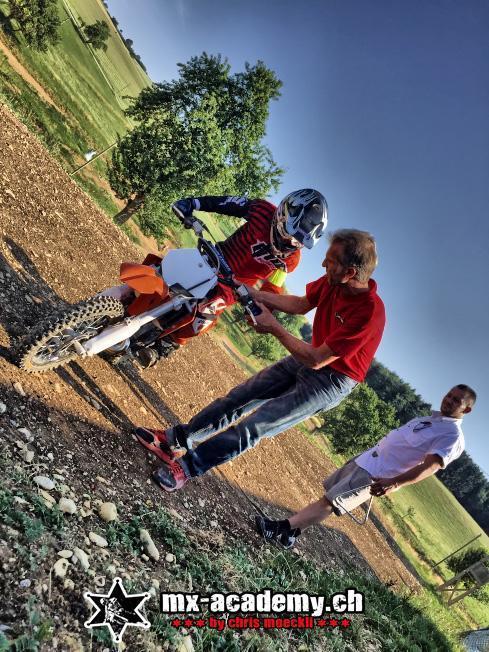 Picture on the left: birthday present Switzerland learning how to ride a motorcycle at MX-Academy from the two-time European champion
Picture on the right: birthday present learning from pros, with own bike
Birthday present Switzerland – A present that lasts long for 589 Fr.
Our no. 1 top helmet from Arai is the highest quality and most secure Motocross and Enduro helmet in the market. This helmet can be bought here: buy Motocross helmet from Arai. With this present, you exceed all expectations. More helmets as an idea for a birthday present can be seen under buy Motocross helmet. More articles in our Motocross shop.
Birthday present – select the value of the coupon
You can also select the value of the coupon yourself. Transfer us the value and after we got the money, we immediately send you the coupon via mail. The birthday present can be redeemed in any way until the value is fully spent – for products from our Motocross shop or participations in Motocross trainings. Here, you can order a coupon and here you can see all dates: Event schedule Switzerland.
Do you also want to witness such a special day and ride a Motocross bike yourself? Together, it is double the fun. Under riding Motocross, you can find more information. Of course, you can also make somebody a great Christmas present, the coupons are valid for 2 years, so you have enough time to wait until summer to participate in a course or you can buy something form our Motoshop.
Book the unforgettable action present for birthdays or any other occasion now!
Services and prices when you want to buy a birthday present coupon for riding Motocross
| | |
| --- | --- |
| 3h MX (track, bike, instruction included) | 240,00 CHF (225,54 €) |
| 4h MX (track, bike, instruction included)   | 290,00 CHF (272,53 €) |
| Complete set of MX equipment | 70,00 CHF (65,78 €) |
| Board for a whole day per person | 25,00 CHF (23,49 €) |
| Coaching (obligatory for beginners) | 50,00 CHF (46,99 €) |
| Price for the course, the track and the coaching with own bike  | 180,00 CHF (169,16 €) |
Terms and conditions and waiver for riding Motocross as a birthday present

[terms and conditions as PDF]
Do you have questions concerning the voucher as a birthday present Switzerland? Don't hesitate to call us or write an E-Mail to This email address is being protected from spambots. You need JavaScript enabled to view it. – we are looking forward to hearing from you!
Birthday presents Switzerland | MX-Academy
Birthday gifts Switzerland, birthday gifts Zurich, Winterthur, St. Gallen, Lucerne, Chur, Basel, Central Switzerland, Eastern Switzerland and Northern Switzerland, Baden, Innerschweiz, Thurgau, Schaffhausen, Appenzellerland, Berne, Aargau, Lausanne, Geneva, Schwyz, Glarus, Uri, Graubünden , Solothurn, Rhine valley, Freiburg