Kids-Motocross, Kids-Cross and Mini-Motocross
Motocross for kids from 4 years of age – Mini-Motocross
Kids-Motocross and Mini-Motocross give children an understanding of discipline, coordination, stamina and the ability of listening
Our Kids-Motocross-Course in Switzerland gives children who are passionate about motorsport an opportunity to get a taste of the fun you can have when riding a motorcycle. With a complete equipment, the young, interested ones get extensive instructions by experienced professionals. They explain in detail what there is to keep in mind about riding a dirt bike designed for children. Furthermore, the give you tips how a day on a Motocross-track can become a very special experience. If the child is a Kids-Motocross beginner, the instructor is riding together with the child until he/she can control the bike by him/herself.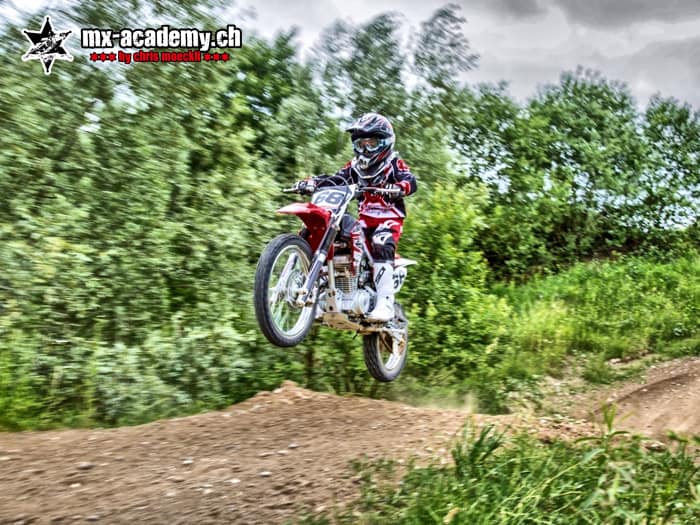 Mini-Motocross and Kids-Motocross at MX-Academy in Switzerland
For a perfect success, the little racers there is an automatic Mini-Motocross motorcycle standing by, so they can get used to dealing with such a machine. For that, we offer them the whole Honda-Kids-Motocross-Series: CRF50, CRF70, CRF110, CRF125 and CRF150. As long as throttling and braking doesn't work smoothly, an experienced professional rides together with the child and helps in difficult situations.
The next step makes the majority of parents get amazed. Most children are able ride the track on their own after a short time. A real boost in confidence for the little ones!
All children who are passionate about mechanics can also learn how to use the clutch and show their skills with a manual dirt bike. Just like the big ones. Everyone if he/she is ready for it.
Kids-Cross Switzerland, MX-Academy:
Kids-Motocross Switzerland, MX-Academy:
Kids-Motocross Switzerland, MX-Academy:
The Kids-Cross offer is focused on children from 4 years of age and is, thanks to our experienced professionals, designed for the individual skills of the child. Together with the children, we experience joy in using fast machines and for some, we can even trigger a wide passion about everything that has two wheels. Kids-Motocross and Mini-Motocross not only is challenging stamina-wise but also coordination-wise and the kids learn discipline and balance. All this in an environment that fulfills many children's wishes: riding Motocross. Because of that, Kids-Motocross is also an exceptionally good school of life, even in early years. General information about the fascinating sport that is Motocross, can be found under Motocross sport, information about the sport in Switzerland, under Motocross Switzerland. Our German Kids-Motocross site can be found under Kids-Motocross.
The whole thing for adults can be fund under riding Motocross and Motocross taster course. You want your own Motocross equipment for your child and because you like tinkering on bikes yourself, your own Kids-Motocross bike? In our Kids-Motocross shop, you can see every piece of equipment, under buy Kids-Motocross, you can see an ideal Kids-Motocross bike and under Mini-Motocross, you can see the smallest available Mini-Motocross bike on the market. Under Kids Motorcycle there are even more options.
Kids-Motocross and Mini-Motocross | MX-Academy
If you and your child want to take part in a Kids-Motocross course at MX-Academy, you can look at our offers or get in contact with us directly under This email address is being protected from spambots. You need JavaScript enabled to view it. . If you have questions about Kids-Motocross and Mini-Motocross, don't hesitate to call us or write an E-Mail – we look forward to hearing from you! If you don't want to miss any event, you can subscribe to our Newsletter or you can sign up for one of the next Kids-Motocross courses right away in our MX event schedule.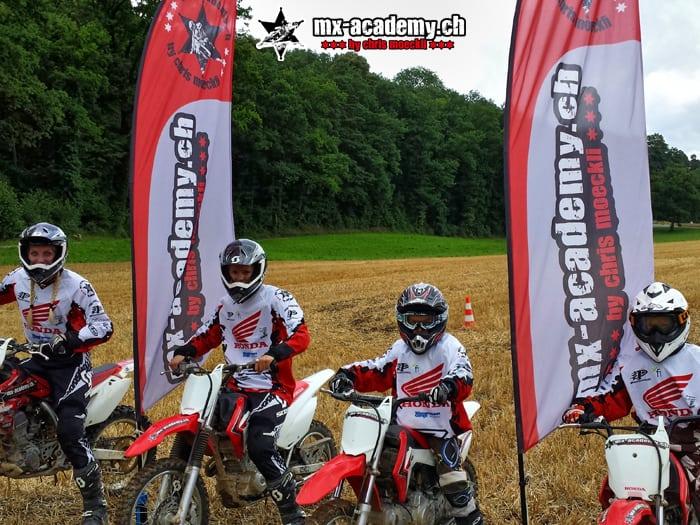 Riding Kids-Motocross and Mini-Motocross in Zurich, St. Gallen, Basel, Chur, Inner Switzerland, Central Switzerland, Eastern Switzerland and Northern Switzerland, Thurgau, Schaffhausen, Appenzellerland, Berne, Aargau, Schwyz, Glarus, Uri, Graubünden, Solothurn, Rheintal and Kids-Motocross Germany, Kids-Motocross Austria, Mini-Motocross Germany, Mini-Motocross Austria.