Learning motorcycle riding in Switzerland
Learning motorcycle riding at MX-Academy Switzerland
At MX-Academy it is possible for everyone to learn driving motorcycle
Learning to ride a motorcycle is much safer away from public streets with heavy traffic and no run-off areas. The easiest and most effective way of learning new motion structures and the correct way of controlling the machine is to train alone and isolated. Learning to ride a motorcycle at MX-Academy: MX-Academy teaches riding on small and light motorcycles with automatic gear. If one masters accelerating and the way of sitting on a motorcycle it is easy to learn to balance the vehicle. If this obstacle is mastered, the next step follows – the correct way of handling the clutch.
At MX-Academy, you learn step by step how to ride the motorcycle the right way. Professionals with many years of experience in race sport and Education will stand by your side to practice the basic techniques and help you learn to ride the motorcycle. The coaches will ride with you in the beginning until you have full control over the machine. It is important to learn all techniques the right way from the start. It is much harder to get rid of bad techniques than learning the correct ones right away.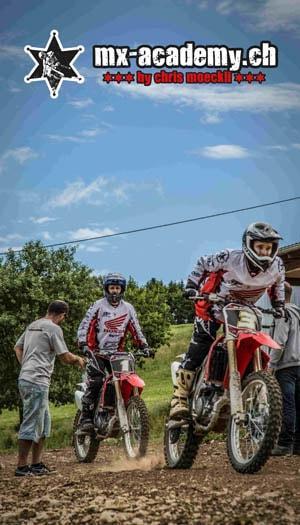 After a short time – by not later than the end of the day – you will be able to ride the motorcycle und the beginners track, maybe even on the advanced track. This depends on your learning ability. We have more than enough time to learn to riede the motorcycle on a motorcycle course at MX-Academy. We individually adapt our training for every participant and take the necessary time until you've learned the correct techniques. We have motorcycles in all sizes, also for women and children. You can find more information about these topics at kids cross and women motorcycle.
If you want to perform a real motocross training, you can find all information under the highlighted link. In the motocross sport you learn the ultimate motorcycle riding and full control over the machine. Regular trainings can be performed with the Motocross Team of MX-Academy.
You are also able to perform the trainings with your own motorcycle.
You want to learn motorcycle riding from scratch with the help of professional riders? In the school of two-times European champion in MX, Chris Moeckli, you have the chance learn to drive motorcycle in the right way. In the event-schedule you see all dates and can book a motorcycle training. Do not hesitate to contact us via E-Mail at This email address is being protected from spambots. You need JavaScript enabled to view it. or a call if you have any questions.
MX-Academy also performs driving instructor advanced trainings. We also offer lean angle training and motorcycle driving safety training. Further information can be found under the highlighted links.
Motorcycle clothing can be found in the Motoshop of MX-Academy under Enduro Shop, buying a motocross motorcycle and other motorcycles offers can be found at motorcycle shop Switzerland.
A gift card for a motorcycle training can be purchased under birthday gift.
Learning to ride a motorcycle for the company, the club or a group? Information can be found under company event and team event.
Learn motorcycle riding Switzerland, Zurich, Winterthur, St. Gallen, Lucerne, Chur, Innerschweiz, Central Switzerland, Eastern Switzerland and Northern Switzerland, Thurgau, Schaffhausen, Appenzellerland, Berne, Aargau, Schwyz, Glarus, Uri, Graubünden, Solothurn, Rheintal, learn motorcycle riding in Germany, learn motorcycle riding in Austria.