Motocross riding Switzerland
Motocross riding for everyone in Switzerland – beginners and professionals
Ever thought about motocross riding? MX-Academy is the best spot for you!
Motocross riding has always delighted you? You are fascinated by jumps and how the drivers handle their bike? You want to try riding a Motocross bike yourself but never had the chance? Are you a Motocross rider who wants to improve his/her skills? MX-Academy will make you able to do so! At MX-Academy you can ride Motocross and let yourself get fascinated by this amazing sport! Also for complete motocross beginners.
Ride Motocross at MX-Academy and let our team support you in the best possible way. Our coaches are there for everybody. If you are a Motocross beginner, we will make you able to ride the Motocross in one day by teaching you the basic skills. The majority of our riders are beginners but had the Motocross under control in less than a day. Of course, you can accomplish this as well!
We also offer Kids-Motocross to make it possible even for children to ride the motocross. They can participate at a Motocross taster course or improve their skills if they already own a Motocross.
For women we offer fitting equipment and motocross bike. Information about that can be found under motocross women Switzerland.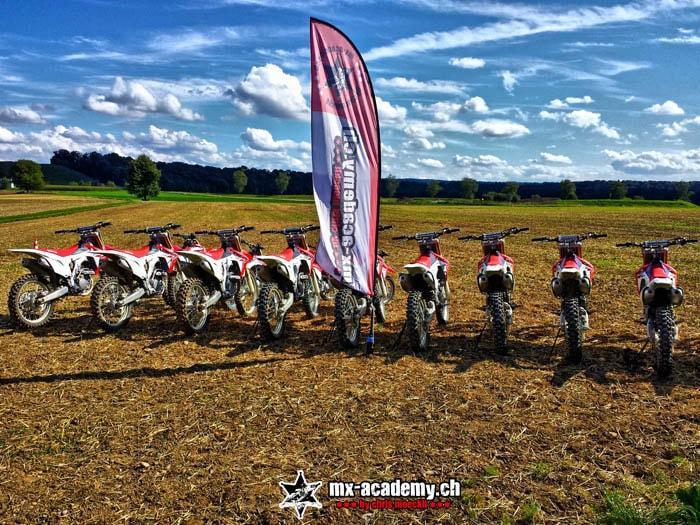 If you already have earned experience in Motocross riding, we will give you tips for the expansion of your skills. Our professional team that consists of Motocross riders and professionals will teach you the secrets of motocross riding in theory and practice. As a highlight you are able to join us on a trip to Dubai and ride the motocross in the desert of Dubai. More information about that can be found at motocross Dubai.
Interested in more? In our Motocross team at MX-Academy, you can also learn the hardest motocross techniques that need Motocross training on a regular basis. Additionally, you have many more advantages. More information about that can be found following the highlighted link. To be able to ride the Motocross faster there is only one way: improving the Motocross riding technique. Courage or risk will never make you go faster on your bike. Without control over the machine it will result in a fall.
If you want to ride motocross, do not hesitate to register at MX-Academy of Chris Moeckli and experience the ultimate action. You can contact us via a phone call or via E-Mail. At the Motocross event schedule, you can see all relevant dates and also can register for one there. At Motocross courses, you can see all offers. We are looking forward to welcoming you at MX-Academy!
More information about Motocross riding:
More information about MX sport in general can be found at motocross sport.
Information about motocross sport in Switzerland can be found here: motocross Switzerland.
If you want to ride Motocross with your own group, you can find information about that at team event Switzerland.
Motocross riding as a gift can be found at birthday gift. If you want to make another gift or need equipment or a Motocross bike, you can find the best offers at motocross shop of MX-Academy under the section buy motocross. We wish you much fun browsing the offers!
Motocross riding with Chris Moeckli:
Riding Motocross in Switzerland, Zurich, Winterthur, Frauenfeld, St. Gallen, Lucerne, Chur, Innerschweiz, Aarau, Central Switzerland, Eastern Switzerland and Northern Switzerland, Thurgau, Solothurn, Schaffhausen, Berne, Aargau, Schwyz, Glarus, Graubünden, Biel, Rheintal, Uster, Basel
Created on .
Last updated on .