Motocross Team Switzerland
MX-Academy's Motocross Team in Switzerland
MX-Academy operates a Motocross Team for riders who want to intensively and regularly learn the techniques of driving a Motocross and a motorcycle. As a result, this enables them to learn the advanced techniques.
Riders who understand that only by improving their riding techniques, they will be riding the motorcycle better, safer and faster, are right at the Motocross Team of the MX-Academy. Strength and higher risk don't lead to higher speed, but always ends in an accident. Regardless of whether Enduro Training or at a Motocross race, the riding technique should always be more important than demands and speed. The faster one rides, the smaller the timeframe to react will be and therefore there is the need to act more precisely. This is only possible through riding technique and precision.
Whether you want to take part in races and learn the necessary skills, take a trip on a big Enduro and be able to control the heavy Enduro bike in every situation without getting tired or support your child, so it is able to become a successful Motocross rider. Even if you are a beginner and like to ride Motocross or dirt bike regularly in your free time and want to improve your riding technique, because with a better riding technique there will be a lot more options and therefore the Motocross Sport will get more fun. We've got different riders in our Team who have different intentions but the same goal: learning Motorcycle riding techniques. By being able to train in the Motocross Team of MX-Academy individually or in groups, all riders can be trained ideally. 
You learn everything from our experienced professionals a good Motocross- and Motorcycle Rider needs to know. You don't need to own a bike or a complete equipment yourself. But you are able to participate in the Motocross team with your own bike and equipment. Every Motorcycle brand is welcome.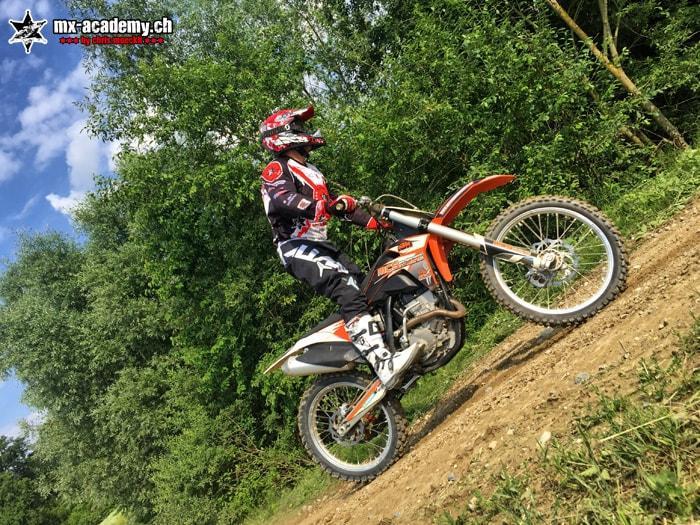 If you don't own a motorcycle yet, keep in mind: You need a completely equipped workshop, a trailer or a transporter and you need to have appropriate replacement equipment and wearing parts in stock. You don't need any of that if you use the service of the Motocross-Team. On top of that, you can profit from our longstanding experience, our expert knowledge of dealing with Motocross-Machines and you get to ride a new bike every year.
Motocross Team Members are able to buy a Motocross motorcycle with special conditions in the Motocross Shop of the MX-Academy. Furthermore, there other equipment parts are offered at the best prices. More information can be found under the following links.
In the Motorcross Team of the MX-Academy we also do race trainings, race simulations and train after a riding technique training plan with different steps and levels. You can join the Motocross Team with your own bike (Riders of all brands are welcome) or with a rented motorcycle.
Next to a lifelong subscription for the participation at our events, we also offer our members exclusive training courses. Members have the opportunity to get a Motocross Team Shirt with their own Name and shirt number. If a rider shows big talent, an iron will and enough training effort, he is able to get accepted to the official Honda race team of the MX-Academy with sponsoring.
In our WhatsApp group in a Doodle survey, you get to know when the next team intern Motocross Training will take place. You can register with one click and you can see some of the extras we can currently offer you.
Do you have questions concerning the Motocross Team of the MX-Academy? Then call us or write an E-mail – we look forward to hearing from you!
More Motocross Team information as downloads:
MX-Academy Racing Team Member (PDF)
MX-Academy Racing Team Member with own motorcycle (PDF)
Are you prepared and ready to start for your next or first race, your first ride on a public Motocross track or your next bigger Enduro ride or motorcycle trip? The MX-Academy makes you ready.
Motocross and Enduro Team Switzerland of the MX Academy registration/application: 
[Button]Registration/application Motocross Team[/Button]
The following information is needed for the registration/application for the Enduro and Motocross Team: (The mobile number will be added to the Whatsapp goup, where we announce the trainings via Doodle surveys. Team clothes will be handed out at the first team event.)
Information:
Forename
Surname
Street and Number
Postcode and Town
E-Mail
mobile number for the Whatsapp team group
Once we've received the membership dues, the mobile number will be added to the Whatsapp group. You get free access to the Enduro and Motocross Team trainings and you can profit from the other discounts in the Motocross Shop and Enduro Shop and offers like your individual Motocross shirt.
Motocross Sponsoring Switzerland:
Through the Motocross Shop Switzerland, the MX-Academy is able to do Motocross Sponsoring in Switzerland and Motocross Sponsoring in Germany. If you are interested in the Motocross sponsoring, we can make you a sponsoring offer if you apply with following information:
Forename
Surname
e-Mail
Postcode and Towns
Street and Number
Goals and classes for the next season
Needed material for the protective equipment
Needed motorcycle and label
List of former successes
Possible advertising space (transporter, motorcycle, car)
MX-Academy Shirt yes or no
Social media advertising yes or no, if yes which
Is there an own website and a link to it?
[BUTTON]]Application Motocross Sponsoring[/BUTTON]
Motocross Team Switzerland, motocross team in Zurich, Winterthur, St. Gallen, Lucerne, Chur, Basle Central Switzerland, Eastern Switzerland and Northern Switzerland, Innerschweiz, Thurgau, Schaffhausen, Appenzellerland, Berne, Aargau, Schwyz, Glarus, Uri, Graubünden, Solothurn, Rheintal, Motocross Team Germany
Created on .
Last updated on .
Hits: 2471