Trail Switzerland
Riding Trail in Switzerland
At MX-Academy, you can ride trails that require a lot of skill
MX-Academy does trails in gravel pits and on cross tracks. This requires a few techniques one must have learned, to ride them with a bike that is about 100kg of weight and has about 40PS. If you can control those bikes, it's a lot of fun and the possibilities with such a bike are nearly unrestricted… The rider's skills are the limit.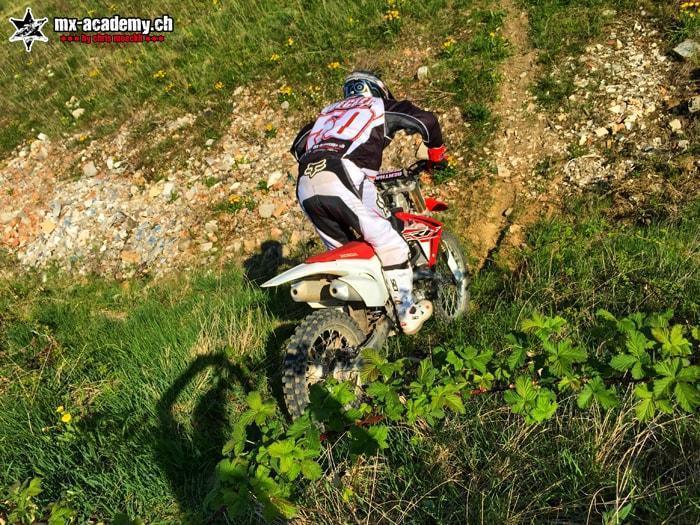 Trail Switzerland – Everybody can participate in riding trail at MX-Academy. Because it's off the regular streets, you also don't need a driver's license. For beginners, we have easier trails and areas to learn the basics first. If you want to train more intense and also learn techniques, you are not able to learn in one day, you should do a real Motocross training, you have the possibility to do so in MX-Academy's Motocross team.
Smaller riders, children from 4 years of age and also women can learn everything that is needed at MX-Academy to properly ride trails. More information about that can be found under kids-cross and motorcycle women.
Those who have mastered the basic techniques, can go Dubai UAE – desert sand, infinite landscapes and unbelievable dunes offer trails that are nowhere to be found in Switzerland. More information under Motocross Dubai.
Trail Switzerland at MX-Academy
Do you want to ride trail? Then, you can see all events in our mx event schedule and sign up for riding trail in Switzerland. If you have questions, just send us an E-Mail or call us, we are looking forward to hearing from you!
More interesting links concerning Trail Switzerland and riding trail:
Motocross as a sport, the requirements, riding techniques and what is generally needed for it, can be found under Motocross sport.
You want to buy a real Motocross bike, THE machine to ride trails? Under buy Motocross, you can see every bike there is, Motocross bikes in every size and for every level of skill, even for children. We gladly advise you on deciding what bike is the best for you. In the Motocross shop, you can see the respective security equipment.
Surprise one or multiple co-workers with an exceptional gift where the get to have much fun and learn much? Under birthday present, you can order a coupon for riding Motocross for women, men and children.
Riding trail for a whole firm, a club or a group? Under corporate event and team event, you can see everything about these 2 activities.
- Have fun surfing!
Trail Switzerland | MX-Academy
Trail Switzerland, riding trail in Switzerland, Zurich, Winterthur, St. Gallen, Lucerne, Chur, Innerschweiz, Central Switzerland, Eastern Switzerland and Northern Switzerland, Thurgau, Schaffhausen, Appenzellerland, Berne, Aargau, Schwyz, Glarus, Uri, Graubünden, Solothurn, Rheintal, Frauenfeld, Aarau, Solothurn, Biel
Created on .
Last updated on .