Riding Supermoto in Switzerland
When you ride MX at MX-Academy you can learn every Supermoto riding technique
Off-Road it is very effectively trainable to handle a motorcycle. At MX-Academy you can learn jumping techniques, drifting and all other advanced techniques you need to master when doing Supermoto sport
Substantially cheaper and with more different possibilities to train in proximity, MX-Academy provides courses for Supermoto riders. After training the basic techniques in different groups, advanced techniques are also trained. Those build on basic riding techniques which first must be perfectly mastered. Balance, right positioning and motion sequences, how to operate all control elements and many more are part of the basic techniques. All jumping techniques, riding ruts, right pressuring of footrests, riding in sand and many more belong to the advanced techniques.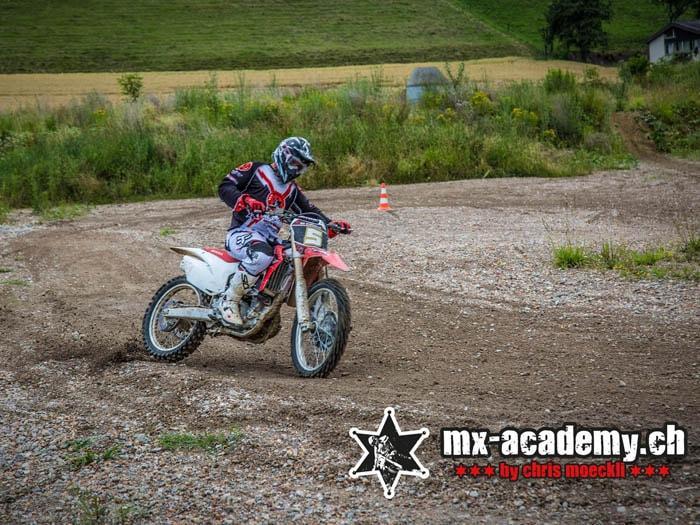 You can learn all these techniques due to the experience of Chris Moeckli, two time IMBA European Champion and RedBull-Athlete for many years. Especially when riding Supermoto on most tracks the biggest difference between a top rider and an average one, is the off-road part. The off-road training is accordingly more important for successful Supermoto riders.
Besides, drifting and braking is easier and cheaper to learn in field because the skid point and the speed are much smaller and a mistake isn't as dangerous as on asphalt.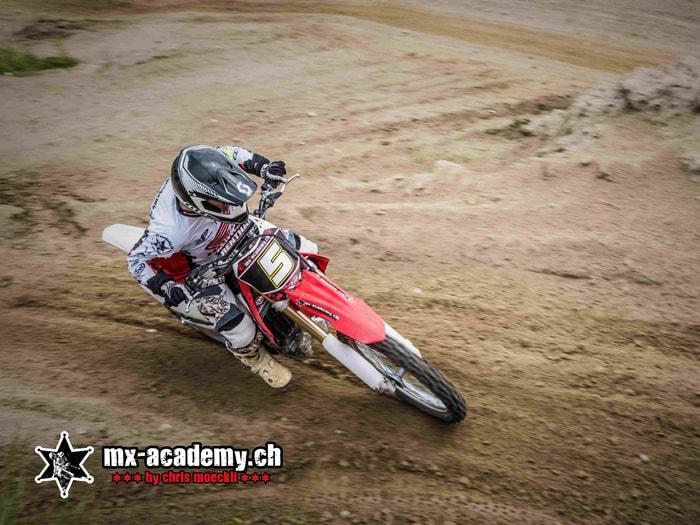 At MX-Academy, you can ride your own Supermoto bike or you can lend one from the academy. This also goes for equipment. A Supermoto equipment is only partly suited for properly training off-road.
If you want to buy additional pieces of equipment, you can buy them at the academy's Motocross shop at top prices.
For a more intense Motocross training we have a MX-Academy Motocross team, you can find all information about it under the marked link. Furthermore, we have offers for women and children, which can be found under Motorcycle Women and Kids-Cross.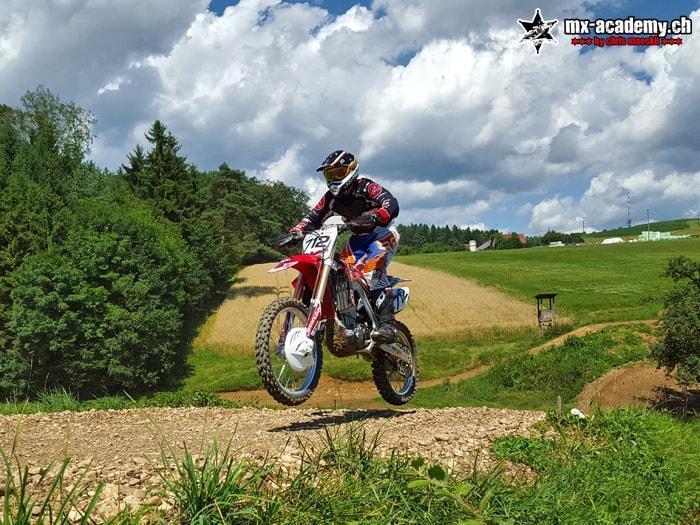 Are you interested in taking part in a course in Switzerland to improve your skills in Supermoto riding? In our event schedule, you can see all events and sign up for one right away. If you have any questions, don't hesitate to write us an E-Mail or to call us – we are looking forward to hearing from you!
More links which will help you with you Supermoto skills or provide useful information:
The requirements and driving techniques of the MX sport and partly of Supermoto can be found here – Motocross Sport.
You can learn more about Motocross in Switzerland and the situation together with the possibilities under Motocross Switzerland.
Replace you Supermoto Bike or get yourself an additional machine to use for off-road training? Under buy Motocross you can see every bike size possible – from beginner and children from 4 years of age to bikes for real pros. In MX-Academy's Motoshop you can also see Motocross equipment and Enduro equipment.
Do you want to get a course for Supermoto techniques as a gift for a friend? Under birthday presend you can order a coupon.
Learning Supermoto techniques for your firm or a group? Under firm event and team event you can find everything about team events.
We wish you fun surfing!
Supermoto Switzerland | MX-Academy
Supermoto Switzerland, Supermoto travel Switzerland, Zurich, Winterthur, Frauenfeld, St. Gallen, Lucerne, Innerschweiz, Aarau, Central Switzerland, Eastern Switzerland and Northern Switzerland, Thurgau, Solothurn, Schaffhausen, Berne, Aargau, Schwyz, Glarus, Graubünden, Biel, Rheintal, Uster , Neuchâtel, Basel
Created on .
Last updated on .