Driving riding, ATV Switzerland
Quad and ATV riding
Having fun driving quad and ATV in Switzerland
Quad and ATVs first came up 1957 in the US. Meanwhile, there are cubic capacity classes from 50 cm³ to 1.000cm³. Because of the continuing development of the engines, although the cubic capacity stays the same, the power gets bigger and bigger. Thus, for reasons of weight, often times, a big cubic capacity is not needed.
Riding quad should only be learned with an experienced coach. Don't underestimate the curve behavior and the weight of a quad or an ATV, but once you've mastered the curve driving techniques, driving Quad is a lot of fun.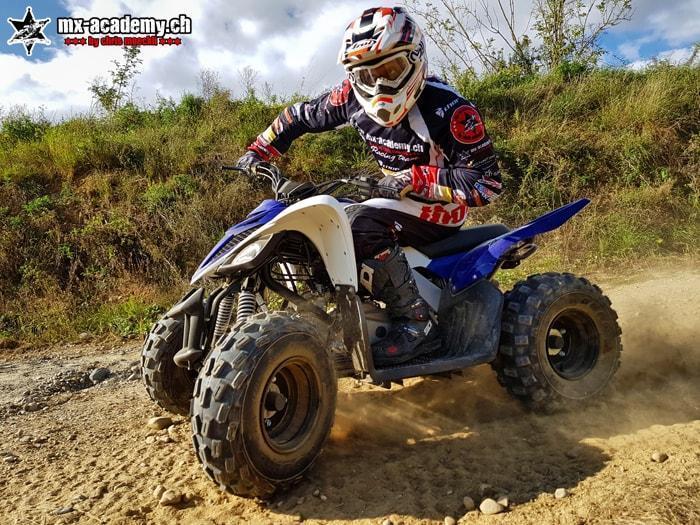 For quad riding, especially on terrain, due to safety reasons, one should always wear a full set of Motocross equipment. Also, for beginners an easy terrain is better: For learning new driving techniques it's best to train in an easier environment. Once, these basic techniques are mastered, you can try bigger challenges on more difficult terrain.
Jumping is also possible with a quad or an ATV once you have learned the basic techniques. 
Kids-Quad, Mini quad and Teen-Quad prices:
| | | |
| --- | --- | --- |
| Quad rent | 200,00 CHF (172,64€) | fuel, normal wear, set up and maintenance at the site included, accident damages not included |
| Complete safety equipment | 70,00 CHF (60,42€) | helmet, chest guard, elbow pads, back protection, knee pads, boots, gloves, trousers & shirt |
| Course cost (basic care & track rent during the week) | 40,00 CHF (34,53€) | obligatorisch |
| Course cost (basic care & track rent on the weekend) | 90,00 CHF (77,69 €) | obligatorisch |
| Extra Coaching | 50,00 CHF (43, 16€) | Individual training for intermediates (curves, jumping techniques etc.) from C. Moeckli, basic instructions for motorcycle riding for beginners and starting training (obligatory for beginners), personal care by a coach until being able to drive on oneself |
| Board | 25,00 CHF (21,58€) | Board, snacks, drinks for the whole day, lunch included on Saturday |

From now on, MX-Academy offers driving quad for children and teenagers – under the marked link, children can be signed up for specially advertised quad events.
Riding quad at MX-Academy is possible without a driving license, because the tracks MX-Academy provides, are located in a private area.
Riding Motocross in the field at MX-Academy is also great fun, more information about that can be found under the marked link. Riding Motocross and riding quad for kids is possible for children from the age of 4.
If you need a quad equipment, you can find many different products in different price ranges in our Motocross Shop.
- Have fun surfing!
Quad bike / ATV riding | MX-Academy
Quad biking, quad biking Switzerland, quad, ATV, ATV driving, ATV Switzerland
Created on .
Last updated on .