Lean angle training Switzerland
At MX-Academy, you can take part in a lean angle training
Off-road, a lean angle training can be optimally executed
MX-Academy gives lean angle training away from the public streets, in the field
Lean angle training Switzerland – Off-road, you learn how to fully control your motorcycle, because you have to master balancing the bike on sloppy an uneven ground, it's easier and less dangerous to go to your machine's moving limit than on regular streets and you must handle the control elements very precisely. Lean angle training requires precise balance and handling of control elements. Therefore, that's the first step at lean angle training at MX-Academy. Once this is mastered, you are ready to learn more advanced techniques. In our lean angle training Switzerland, we separate the riders in different groups and analyze everyone individually.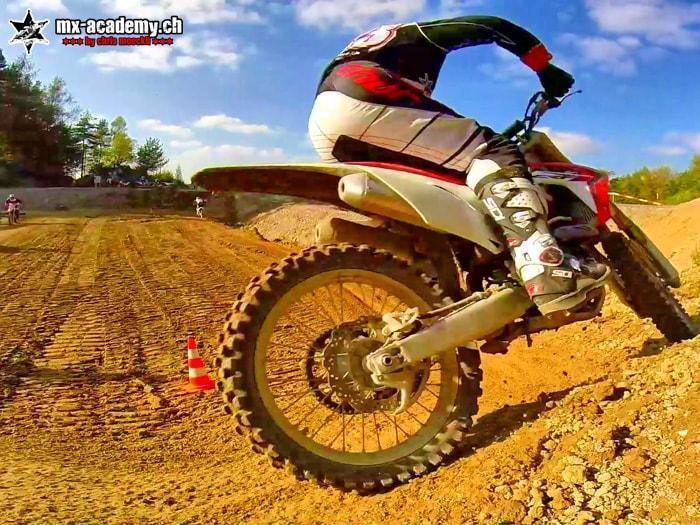 The steeper the lean angles get and the higher the speed, the smaller the window of time for your action gets and the better a riding technique, coordination and timing is required. Off-road these speeds are smaller and thus, these techniques are easier and more efficient to train because the time window gets bigger. Riding steeper lean angles or faster motocross riding is never possible due to bravery or higher risk. If your speed is higher than your level of control, namely the riding technique, it almost inevitably ends in an accident. Because of that, at MX-Academy we always learn all riding techniques in Motocross sport and the details, they contain. Lean angle training and speed because of mastered motorcycle techniques and not because of force or risk.
Lean angle training Switzerland – On a light and handy off-road motorcycle provided by MX-Academy, the lean angle training is easier to execute, because the bike is more agile. It also forgives more mistakes than a regular bike. Once you master the techniques on a handy bike, the next step is to apply them on you own, heavier street bike.
If you feel secure enough, you can also participate with your own bike from the start.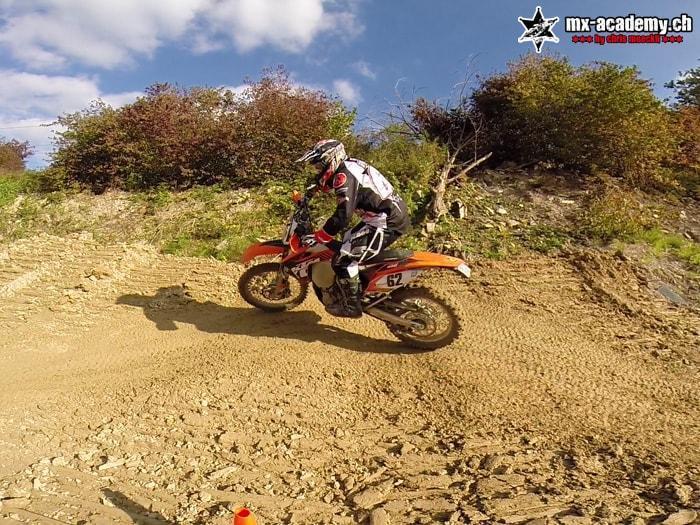 For smaller women, we also have smaller and lighter bikes. Because MX-Academy is supported by Honda Switzerland, we have all Honda off-road models. General information about women at MX-Academy can be gathered under Motorcycle women.
Lean angle training Switzerland MX-Academy
If you want to learn more and more advanced techniques than lean angle training, you can also join MX-Academy's own Motocross-Team.
Do you want to improve your riding technique with a lean angle training in Switzerland at MX-Academy? Do you want to be able to control your motorcycle in every situation? In our event-schedule Switzerland, you can see every event and can also sign up for one right away. If you have questions about our lean angle training or something else, don't hesitate to write us an E-Mail or to call us, we look forward to hearing from you!
MX-Academy also does further training for driving instructors, as well as driving safety training motorcycle and Enduro training. Information can be gathered under the links.
If you need a Bike, Enduro or Motocross equipment, there are top offers in our Motoshop and Enduro shop.
A coupon for a Motorcycle course can be bought under birthday present.
Lean angle training for your firm, a club or a group? You can do all that under firm event and team event.
In MX-Academy's Motorcycle store Switzerland, you can see many good, handy, light and forceful motorcycle like Motocross Occasion or buy Motocross bike. If you have questions, don't hesitate to contact us – we are looking forward to meeting you and have fun surfing!
Video about the lean angle training:
Lean angle training Switzerland | MX-Academy
Switzerland, Zurich, Glarus, Uri, Graubünden, Solothurn, Rheintal, Winterthur, St.Gallen, Lucerne, Chur, Innerschweiz, Central Switzerland, Eastern Switzerland and Northern Switzerland, Thurgau, Schaffhausen, Appenzellerland, Bern, Aargau, Schwyz, Frauenfeld, Uster, Schlaglagentraining Germany
Created on .
Last updated on .