Kids quad, Mini quad
Kid quad riding and mini quad Switzerland
Mini quad and kids quad riding starting at the age of 4 years – MX-Academy Switzerland
Even for the youngest kids we offer kid quad. Depending on body size and riding skills, there are many different quad models. The basic rules for mini quad are the same as with Kids-Motocross – learning the correct techniques. For kid quad riding it is import for the children to learn the correct basics from beginning on. The better they know the basics the more fun the riding will be.
It is important not to underestimate the power and weight of the kid quad models. Because of that, it is important to wear complete motocross safety equipment while riding. Only if the kid masters a quad model and a track he should change to the next more powerful model and harder track.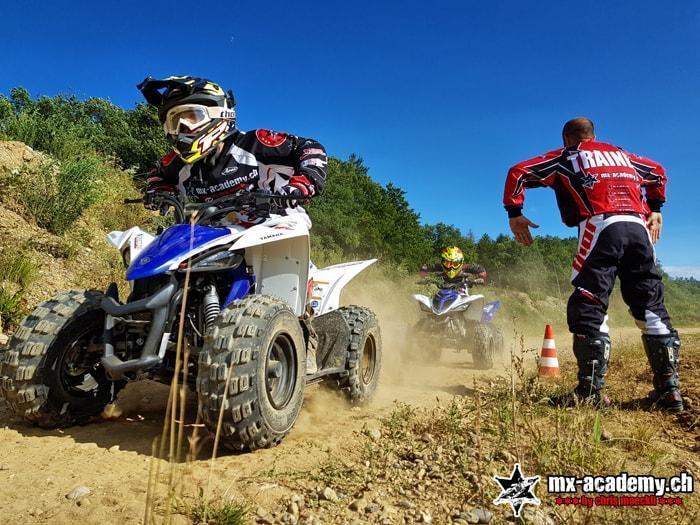 Kids-Quad Switzerland – MX-Academy
This kid quad is equipped with a cubic capacity of 90ccm. The model is best suited for kids and adolescents who already achieved some skills. You can observe this quad in our motocross shop. More information about this quad can be found at buy ATV.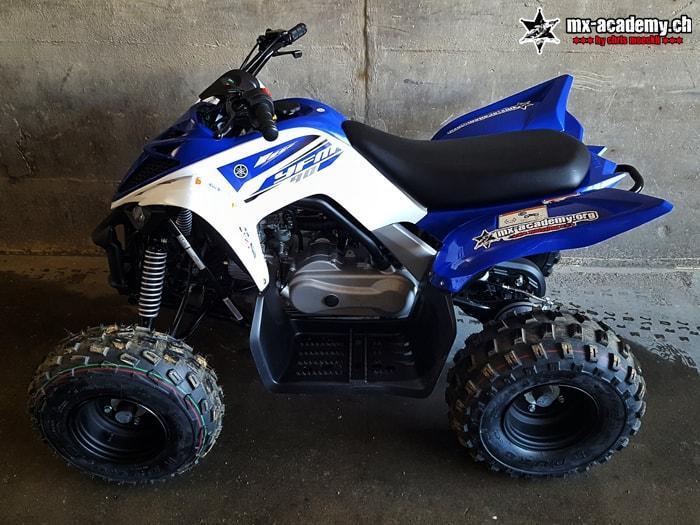 Buying a kid quad – MX-Academy Switzerland
You want to buy a mini quad for your child? For this purpose, we offer a small quad. With 50ccm this model is ideal for beginners in quad riding. It is equipped with an emergency stop so if the rider falls, the quad will automatically stop. This mini quad can be seen at the shop at MX-Academy. More information and pictures can be seen at kid quad buying Switzerland.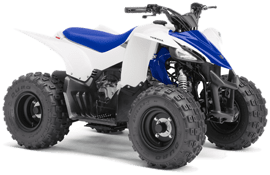 Kid quad and mini quad riding at MX-Academy
You can book the kid quad riding for your child here – following the highlighted Link you will find all kid quad events
Kid quad – mini quad prices
| | | |
| --- | --- | --- |
| Quad rent | 200,00 CHF (172,59€) | Fuel, normal usage, configuration inclusive (fall damages not inclusive) |
| Complete safety equipment | 70,00 CHF (60,41€) | Helmet, chest-, elbow- and spine-protector, knee protector, boots, gloves, trousers and shirt |
| Course costs (support and track rent on week days) | 40,00 CHF (34,52€) | mandatory |
| Course costs (support and track rent on weekend days) | 90,00 CHF (77,67€) | mandatory |
| Extra Coaching | 50,00 CHF (43,15€) | Individual training for advanced, tips and tricks by Chris Moeckli, basic instructions for motorcycle driving for beginners and start training (for beginners mandatory), personal support by a coach |
| Fare | 25,00 CHF (21,57€) | Fare, snacks, drinks for the whole day, at SA lunch inclusive |
If you want to try motocross riding, you can book a motocross taste course. Because the training is performed in a private area, no license is needed!
Mini quad equipment
A complete motocross equipment is also suitable for mini quad driving.
If you have any questions regarding kid quad, do not hesitate to contact us! Send an E-Mail to or call us via +4176 389 76 68. We are looking forward to welcoming you at MX-Academy!
- Have fun surfing!
Kid quad / Mini quad | MX-Academy
Kid quad, kid quad Switzerland, mini quad, mini quad Switzerland, kid quad in Zurich, Winterthur, St. Gallen, Lucerne, Basel, Chur, Innerschweiz, Central Switzerland, Eastern Switzerland and Northern Switzerland, Thurgau, Schaffhausen, Appenzellerland, Berne, Aargau, Schwyz, Glarus, Uri, Graubünden, Solothurn, Rheintal
Created on .
Last updated on .