E-Motocross, electro Motocross
Information about Electro Motocross and E-Motocross
Riding E-Motocross and Electro Motocross in Switzerland
The development in the fields of E-Motocross and Electro Motocross is very high at the moment. The biggest challenge, as everywhere else in the field of electronic vehicles, is the battery. Most E-Motocross bikes can be ridden for about 1-2h when lightly used. When fully used, although, only 15-20 minutes. Since most MX tracks lack a permanent source of power, on this terrain, an emergency power source has to be used. Indoors, on the other hand, when there's a permanent power source, electro Motocross bikes are perfectly suited.
E-Motocross bikes are very easy to ride, because it responds very directly when accelerating and it can't be stalled. A clutch is also not needed. So, you can focus on accelerating and braking. Still, Electro Motocross bikes should not be underestimated and appropriate Motocross equipment is mandatory.
Riding E-Motocross
At MX-Academy, you can take part in every event with your own E-Motocross bike. For now, you can't rent E-Motocross bikes at MX-Academy, but there's an indoor hall planned, in which, when it's ready, you can also rent E-Bikes. At MX-Academy, you can, however, rent equipment and dirt bikes with combustion engines in every size. More information under riding Motocross.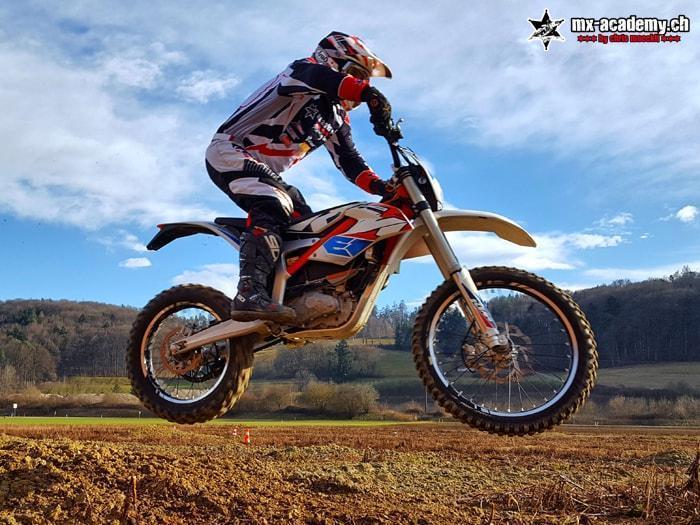 Electro-Motocross
If you like to buy your own equipment, new or used, you can find more information in our Motocross shop.
- We wish you fun surfing!
E-motocross / electric motocross | MX-Academy
E-motocross, electro motocross, e-motocross switzerland, electro motocross switzerland, e-motocross driving, electric motocross
Created on .
Last updated on .