Action sport / Action event
Action sport with MX-Academy – Motocross/Enduro courses for friends, couples, families or groups
Discover a new hobby with an action sport training
You want to have a day full of fun, adrenaline and great experiences? Something you like to talk about and you will have in mind for a long time? At MX-Academy, everyone can try out a championship motocross machine. Book your action sport training now for yourself, friends or your whole family. Balance, capacity of reaction and coordination on a heartbeat rate of 160-210 bpm. With an action sport event at MX-Academy surely everyone will produce adrenaline!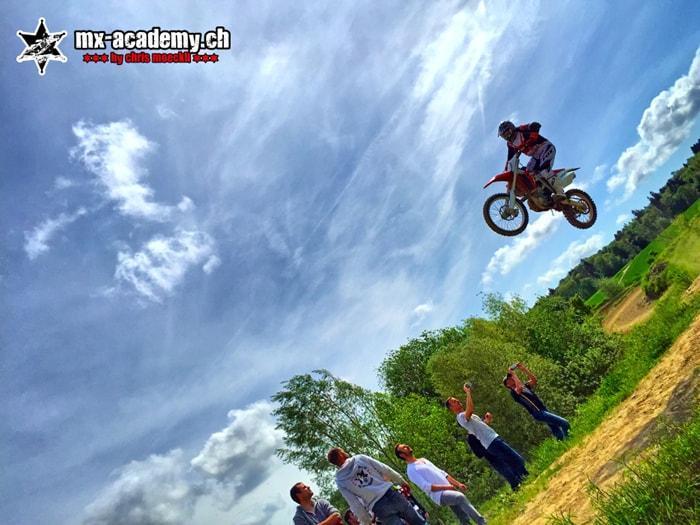 Motocross is the action sport for everyone.
The only thing you have to bring is passion for an unforgettable action sport day! Previous knowledge or a driving license are not required. At MX-Academy, you can participate in a motocross/Enduro course without any knowledge and learn Motorsport from scratch. Kids can participate in our events from the age of 4. With the fitting safety equipment and a half-automatic Honda machine, beginners and kids are able to make their first tries in motocross sport. At every one of our events, there is an easy track on which beginners and kids can train. More about kids cross action sport training can be found at Kids-Motocross Switzerland.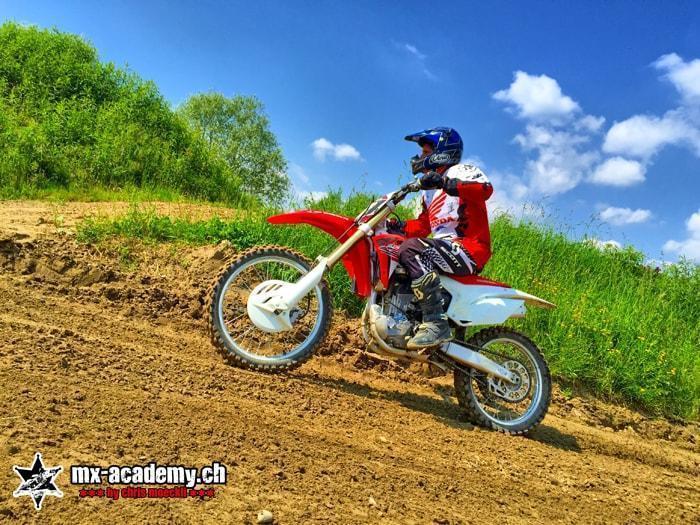 No matter if beginner or professional – at MX-Academy everyone experiences their personal action sport day
The participants are divided in groups matching their personal driving skills. Like this we can train different driving techniques and because of that kids, women and men can experience an action sport day. In the beginning you will get to know the bike and the theory of the basic techniques. After that, the coaches will show you how to handle the bike best on the track. The experience motocross pilots will improve their skills by many hints given from our team.
To make an action sport course possible for women we also offer smaller bikes and fitting safety equipment. More about that can be found at women motocross Switzerland.
An action sport course at MX-Academy can also be used as motorcycle driving safety training or lean angle training to improve the personal skills.
A mix of fun, adrenaline and challenge guarantees everyone an unforgettable action event
Are you looking for a new company event in Switzerland where you and your colleagues will experience an unforgettable action event? Groups up to 20 people can participate at MX-Academy events as well as single persons. The whole safety equipment in different sizes as well as bikes of the Honda off-road series can be rent at MX-Academy for the event. This excursion will spark your community feeling and will be the ultimate team event for you and your colleagues. No matter if adolescents, adults, women or men, beginner or professional – at a motocross training of MX-Academy everyone can ride a bike. Here you get to know your colleagues and boss outside of the known working routine. Even on a company event with 20 participants we will divide them into groups fitting their personal skills so everyone will have the best possible experience.
Action event at MX-Academy in Switzerland
We offer events on a regular basis every year on different tracks. In our event schedule Switzerland, you can find all dates and courses. Our youngest participants are about 4 years old and the oldest participant was 74 years old. Motocross/Enduro training are perfect for everyone who are looking for an action event on two wheels. Besides joy about new challenges and adrenaline you do not need anything. In our action event trainings, everyone is welcome. No matter if men, women or children – with different Honda models everyone will experience their personal action event and will get to know the motocross sport.
No experience and no license – no problem! At MX-Academy you can begin with no experience in different training groups and learn motorcycle riding.
At every offered event, you can also participate with your own equipment. If you want to buy your own bike, you can find many interesting products in the Motoshop Switzerland of MX-Academy. You can also buy your personal safety equipment.
We would be happy to advise you to find the best products for you. Contact us via E-Mail or a phone call. We are looking forward to welcome you at MX-Academy!
Action Sport / Action experience | MX-Academy
Action Sport Switzerland, Action experience Switzerland, Action Sport Zurich, Winterthur, St. Gallen, Lucerne, Chur, Innerschweiz, Central Switzerland, Appenzellerland, Berne, Aargau, Schwyz, Glarus, Uri, Graubünden, Solothurn, Rheintal, Eastern Switzerland and Northern Switzerland, Action Sport in Germany, Action Experience in Germany
Created on .
Last updated on .